Our assortment of lavish reviews this week includes Dwight Garner on Jared Kushner Break the storyGraciela Mochkofsky on Miguel Ángel Asturias' Mister PresidentClaire Messud on Julian Barnes' Elizabeth FinchAlan Hollinghurst on Andrew Holleran The kingdom of sandand Ron Charles on Emma Donoghue Haven.
Featured by Book Marks, "Rotten Tomatoes for books" by Lit Hub.
*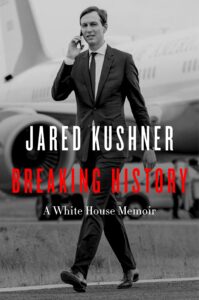 "He betrays little knowledge that he was in demand because, as a landslide of other reporting has demonstrated, he was in over his head, unable to curb his greed, an arrogant young estate heir who unboxed a lot of Big Macs alongside his stepfather, the erratic and misinformed leader and equally mercenary of the free world. Jared was a soft touch… Break the story is a serious, soulless assessment — Kushner looks like a model, and he writes like one — and a particularly selective assessment of Donald J. Trump's tenure. Kushner almost entirely ignores the chaos, the alienation of allies, the violation of laws and norms, the flirtations with dictators, the complete loss of America's moral leadership, and so on, ad infinitum, to speak of his childish do-it-yourself (the "mechanic"). the gravel driveway and the mailbox. Kushner's loyalty to Trump remains absolute. Reading this book reminded me of watching a cat lick a dog's eye.
–Dwight Garner on Jared Kushner Break the story (The New York Times)
"A writer's life is animated, tense, consumed or marked by the drama of recognition. Most writers never get there. Some are ahead of their time and miss it. Others will not see their work published until they die. And some simply suffer from bad timing. The Guatemalan novelist Miguel Ángel Asturias was one of the latter. He invented an entirely new literary language, nourished by the European avant-gardes of the 1920s, mixing political reality, myth, poetry, theatre, silent cinema, indigenous cultures and dreams. It's not like he didn't receive rosettes: he was the first Latin American novelist to win the Nobel Prize for Literature and one of only three writers to have received both a Nobel Prize and the Lenin Peace Prize. But, "from the moment" he received the Nobel Prize, his "star began to wane, and he was never again at the center of Latin American literary attention"… However, tremendous news English translation of his pivotal work, The Roman Dictator El Señor Presidente—Mister President in this edition — by the Guatemalan American writer David Unger, published in July by Penguin Classics, with an introduction by Martin, could restore it to its rightful status. This time, the story is not just about Latin America's cycles of tyranny, but about the United States and a Europe facing, for the first time since its publication in 1946, a new wave of authoritarian rulers. booming.
–Graciela Mochkofsky on Miguel Ángel Asturias' Mister President (the new yorker)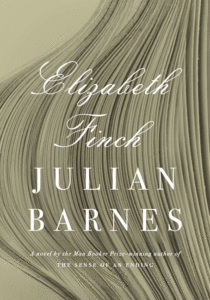 "Barnes' New Novel Elizabeth Finch– although the novel seems a curious category for what is essentially a thoughtful essay lightly draped in romantic garb – raises eternal questions as it reflects on the life and legacy of Julian the Apostate… A certain Mozartian levity has been replaced by a serious seriousness. The title of the novel seems partly a nod to that of JM Coetzee Elizabeth Costello, an equally essayistic novel, and while less dry than the work of Coetzee (whose great gifts don't include a sense of humor), the book is less engaging than, well, much of Julian Barnes … Ultimately, perhaps it's an exploration of the very notion of legacy, of what survives after a person dies, of the slippery and shifting details that might shape their memory… That's certainly wise . One could only wish that Barnes had chosen a rather livelier and more compelling protagonist than the solid Neil to travel alongside to this illuminating truth.
–Claire Messud on Julian Barnes Elizabeth Finch (Harper's)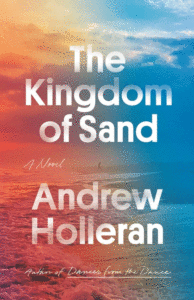 "Andrew Holleran's novels are so dark and personal that one cannot help worrying about him in the long intervals between them and wondering, since he is now nearly eighty, if there will be another book. Sixteen years have passed since the last, Pain, a novel-length study of a man, very much like him, mourning the mother who for years has been the center of his affective life… How Holleran, master of melancholic atmospheres and painful self-examination , could he follow this study in desolation? Was there any chance he could embrace the freedoms of old age and pursue a whole new area of ​​interest? Or would he pursue to an even narrower and darker goal his study of the privations and terrors of the advancing years, which made both The beauty of men (1996) and Pain such dark and original wills? The answer is clear from the first pages of his fifth novel, The kingdom of sand, with their scrupulous evocation of a Florida roadside video store, and the protocols and humiliations of visiting him if you're a lonely sixty-something gay man looking for sex: this will be the most depressing Holleran to date. It also happens to be his most touching confessional, with a muted poetry of place and season that lingers in the reader's mind.
–Alan Hollinghurst on Andrew Holleran The kingdom of sand (The New York Book Review)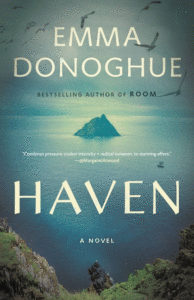 "…very few readers have prayed for a novel like this. But Haven creates an eerie, meditative atmosphere that should resonate with anyone willing to think deeply about the benefits and costs of dedicating their lives to a transcendent cause… The drama in this novel builds slowly, like fresh water in their cistern. The challenges – what to eat, where to sleep – are exacerbated by Artt's fanatical insistence that they immediately build a stone church and start copying Bibles. The result is a survival story locked in a very small space, completely cut off from the world: Bedroomwith a view… Donoghue works subtly from the margins, letting these three men evolve into their distinct roles. Their senseless destruction of the island's resources will resonate with contemporary readers, but she refuses to reduce these characters to symbols of modern demands. Its narration stays close to their minds, which are about as sinless as this story is ironic… The effect is transporting, at times unsettling, and ultimately shocking. Trian's affection for his companions, the birds, the island – everything – is so sweet and vulnerable that tragedy begins to haunt these pages like the approaching winter… My only substantial criticism of Haven seems harder than I think: This novel could have been a classic short story. Donoghue's prose pays too much attention to the rugged beauty of the island and the heartbeat of Trian to suggest the book is padded. But the tight focus of the story; its ever-increasing single arc; and especially its thunderous conclusion would have ensured a short version Haventhe kind of immortality Artt can only dream of.
–Ron Charles on Emma Donoghue Haven (The Washington Post)