It can take many forms. In Bhujodi, a village near the town of Bhuj in Gujarat, a group of young men meet every evening to sing devotional songs. They are all weavers and feel a special connection to Kabir, who was also a weaver. They are supervised by Naranbhai Siju, a carpet weaver by profession and a remarkable self-taught community archivist, who spends his spare time recording and annotating this set of devotional music.
The women of Lakhpat, an ancient port near the India-Pakistan border, quietly subvert gender roles through their performances of folk music. They are the first group of women from Kachchh to perform in public – and it has changed their lives.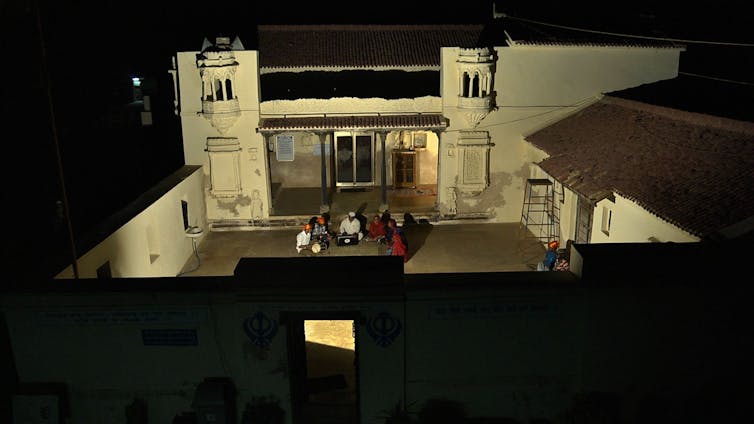 Noor Mohammad Sodha is a master flutist from Bhuj who played the jodiya pawa or double flute for more than 25 years, performing in India and also abroad. He recently started teaching his skills to three young people, hoping this tradition will continue.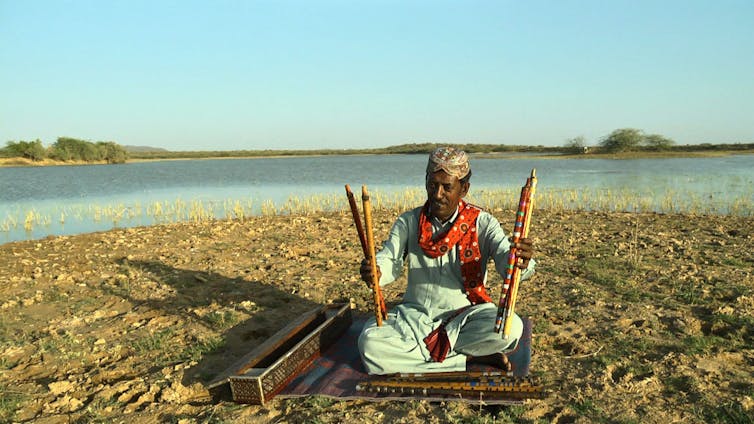 Jiant Khan, 60, lives in the Banni grasslands of the region. Two nights a week, he meets people who travel from distant villages to sing the verses of the Sufi poet Shah Bhitai in the musical form Waee, a style from northwest India and beyond, performed with stringed instruments. . Five years ago there were only three people in India singing this rare and ethereal form – now the number has risen to eight.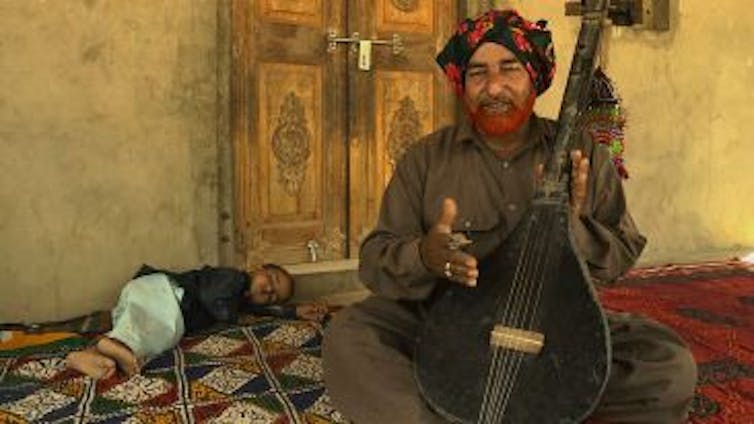 All these passionate musicians maintain this delicate weaving, engaged in the project of what Naranbhai calls "bringing down the walls" – walls that have been built through the politics of hatred and intolerance that mark the current era.
Pastors living in harmony
Since 2008, our team from the School of Media and Cultural Studies at the Tata Institute of Social Sciences in Mumbai has been making video documentaries on the music of pastoral communities in the Kachchh region of Gujarat. This resulted in the making of our three films – Do Din Ka Mela (A Two Day Fair), So Heddan So Hoddan (Like Here Like There) and A Delicate Weave. Gujarat witnessed ethnic violence directed against the state's Muslim minorities in 2002, in which more than 2,000 people were reportedly killed. Kachchh, although part of Gujarat, was not affected by this outbreak of violence. We were inspired to explore the socio-cultural fabric that makes Kachchh an island of peace in a sea of ​​intolerance and embarked on a process of documenting Sufi traditions of music, storytelling and poetry that is integral to the life of the pastors who live there.
This region has a long tradition of nomadic pastoralism, with many different communities moving from Kachchh, through the salt desert known as the Great Rann of Kachchh, to Sindh, now Pakistan, with their herds of cattle and camels in search of pasture, in a process of rotational migration.
This movement over millennia has resulted in strong kinship and trade ties between Hindu and Muslim pastoralists or Maldhari Kachchh communities with their counterparts in Sindh and Tharparkar across the Rann of Kachchh.
In the past, their religious identities were somewhat unimportant and blurred. Many of these groups were nomads, with their own beliefs and practices, and there were also strong brotherly relationships between different communities, through religious beliefs, supported by stories about these links from mythology and folklore.
Harder borders
The 1947 partition of India forever transformed the lives of these communities, accentuating distinct and mutually exclusive religious identities – the new frontier became a fault line for divisions that had never existed. Pastors were now locked into newly imagined nations, which continued to recreate the tensions set in motion by the partition, their movements restricted forever.
After 1947, the border was somewhat porous until the Indo-Pakistani conflict of 1965, after which crossing became increasingly difficult and the Rann became a militarized zone.
The emergence of hard, fenced and fortified borders is not the only threat to the semi-nomadic pastoralism of the Maldharis. The past few decades have seen a slow and steady destruction of these ways of life, through state environmental policies, the promotion of industrialization, the proliferation of environmentally insensitive tourism, and the condescending and cavalier attitude of bureaucracy towards these communities.
fragility of life
Sindh and Kachchh share a common heritage, based on Sufism and other syncretic practices, as well as a shared repertoire of poetry, folklore, embroidery, architectural practices and visual culture.
The Bhakti poetry of Kabir, a mystical poet-weaver of the 15th century, is sung and recited across communities and religions. Shah Abdul Latif Bhitai, the Sindhi Sufi poet, wrote the Shahjo Risalo at the end of the 17th century, a remarkable collection of poems which continue to be sung by the communities of Kachchh and Sindh.
Many of these poems are inspired by legendary love stories, which speak of the fragility and finitude of life, the inevitability of heartbreak, and an ultimate surrender and union with infinity. Our documentation work at the School of Media and Cultural Studies, Tata Institute of Social Sciences, has often been in collaboration with the organization Kutch Mahila Vikas Sanghatan (KMVS) which spreads the belief that culture, music, language and Lived traditions have formed an important component of empowerment initiatives since 1988.
One such initiative brought together musicians from diverse communities, initially through community radio. The musicians now have their own association which helps organize programs, mentor young musicians and keep these musical traditions alive and strong.
Over the years, but especially after the 2001 earthquake which killed more than 12,000 people, there have been many changes in the social fabric of Kachchh.
The earthquake led to a massive external intervention, in terms of reconstruction and rehabilitation, both from the State and from non-governmental organizations. Today, Kachchh has also become a tourist destination, with the state-sponsored Rann Utsav (Desert Festival) which takes place between November and February and attracts thousands of tourists, with obvious effects on the fragile ecologies of the Rann and grasslands.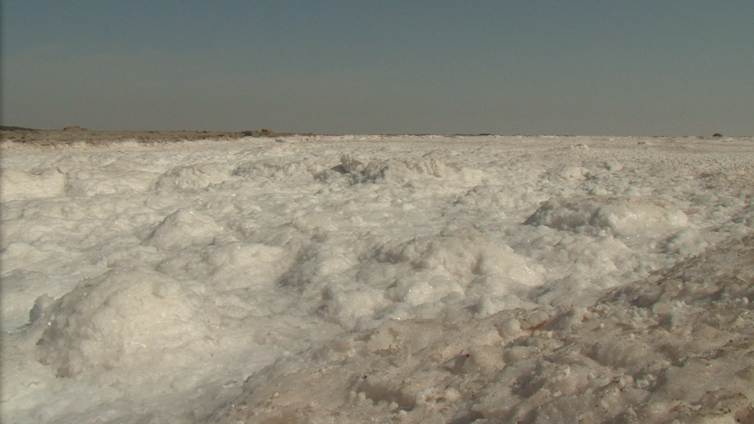 The effects of these changes are complex. While on the one hand tourism and external markets have boosted local arts, crafts and artisans, on the other hand the way in which they change relationships within communities can pose challenges for life. community. These changes are exacerbated by the shift towards right-wing political parties in Gujarat, including Kachchh, which threatens the traditionally brotherly and symbiotic relationships between various communities. This is the backdrop against which A Delicate Weave explores efforts to teach and learn these dying musical traditions and support the utopian energies that characterize Sufis and other syncretic ways of being. These traditions affirm notions of diversity and peaceful coexistence within this precarious but resilient social fabric.
Anjali Monteiro is Professor at the School of Media and Cultural Studies, Tata Institute of Social Sciences and Jayasankar's PC is Dean, Professor, School of Media Studies, Tata Institute of Social Sciences.
This article was originally published by The Conversation.