The Cameron Art Museum is home to many fine exhibits and interactive events throughout the year. This weekend, they will welcome not only new visual artists, but also poets. On April 1, a handful of UNCW creative writing students in both the BFA and MFA programs will be part of a live exhibit, showcasing their poetry talents and paying homage to the theme "State of the Art".
Heather Wilson, associate director of the Cameron Art Museum, contacted UNCW's creative writing department to invite students to participate. "We jumped on it quickly because it's such a great opportunity for our students," said Tim Bass, professor and creative writing advisor. "I want our students to see that they have a ready audience – people who value the skills and efforts of writers who learn, explore, and reach out to the public."
"I think it's going to be a lot easier to draw people in there, less of a wax museum and more of a performance," said BFA student and poet Sayer Kirk.
The students chosen to perform were hand-picked by Bass based on his knowledge of the students in the department as well as recommendations from his peers. Taylor Salvetti, another BFA student, recalled his reaction when he received the invitation to participate. "I felt bad for my friend because he didn't get an email," he said. "That's when I realized it wasn't a mass email, but I felt good that I was considered."
Even so, not all performers are die-hard poets. Kirk previously published a collection of poems online, but BFA student Barret Giehl only realized a few months ago that he wanted to be a writer.
"It would be silly not to be nervous at all. This is the first time I have read poetry publicly," Giehl said. "But mostly I'm excited and really looking forward to it."
Each poet will have two minutes to share the poem they wrote. "I hope people are listening," Salvetti said. "In the paintings, you can see that the craftsmanship is beautiful, but you are not moved to tears, it can be hard to identify with it. But if there is a human being in front of you, speaking the words he wrote, it may leave you speechless.
The general theme of "State of the Art" is broad, to say the least, encompassing any topic related to North Carolina. Poems written for this event range from hometown heroes to thoughtful humor, sentiment, traits of disdain, a sports team and everything in between. Giehl tried to stick to a humorous piece, while BFA sophomore Kaylin Margaret will perform a reflective piece about the good and bad sides of her hometown, written as a prose poem.
Although this exhibition is an experience for those who attend, it offers much more to those who perform by allowing them to participate in a legitimate public reading. "I wish it was something that I do and I think 'oh my god, I want to read more poetry to people.' I hope this will light a fire under me," Margaret said.
It's also a chance for writers to get a taste of what it's like to share their work outside their classroom chairs and stand in the spotlight. "I'm a little anxious," Kirk said. "But I'm excited to read my poetry to an audience and not just write poetry in my bedroom by myself."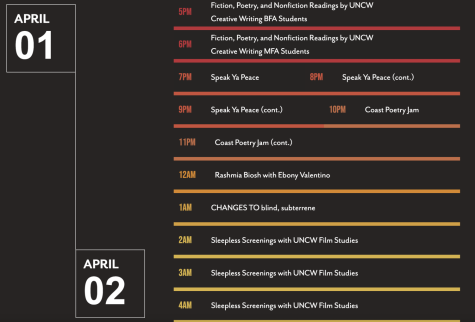 "I hope audiences will see the students for who they are: smart, talented, funny, a bit irreverent, varied in their writing voices, and able to contribute great poems and short prose," said Bass.
Art is an integral part of our global society. An exhibit dedicated to the state we currently reside in is even more of a treat. The opportunity to listen to our peers perform their poetic pieces, live, while attending the other visual presentations is a rare privilege. Mark your calendars for this momentous event to support local students, art and the place we call home.
"As for the audience, I hope they will come away with a sense of the exceptional and surprising skills of undergraduate writers in the Department of Creative Writing." Bass said. "They're going to have fun."
Details about the "State of the Art" exhibit can be found on the Cameron Museum of Art website. BFA student readings will take place from 5-6 p.m., and MFA student readings will follow from 6-7 p.m. The exhibition itself will continue for a 24-hour period, and food and drinks will be offered at the CAM Café.